someone at 0V touches the bird or you fall from 30,000 ft.

Figure (a) below shows measurements of the electrical potential on a grid. Figure (b) shows equipotential contours.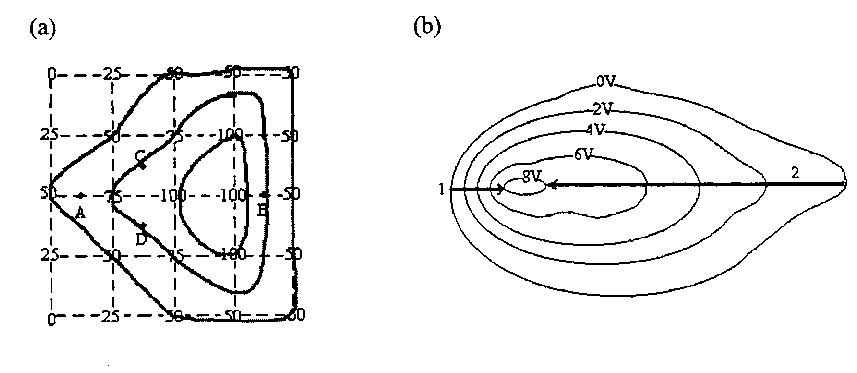 Draw 50V, 70V & 100V contours in Fig. (a).
If the gridlines in (a) are 1cm apart, estimate the electric field (magnitude and direction) at points A, B, C, & D.
A. E = - dV/dl = 25V/1cm = 2500 V/m (toward left)
B. E = - dV/dl = 50V/1cm = 5000 V/m (toward right)
C. E = - dV/dl = 50V/1.4cm = 3570 V/m (toward upper left)
D. E = - dV/dl = 50V/1.4cm = 3570 V/m (toward lower left)
In Fig. (b) where is the electric field strongest?
The field is strongest where the contours are closest together - up "1",
Where is it weakest?
and weakest where the contours are furthest apart - up "2"
Suppose you were "pushing" a proton from the lowest contour to the highest contour. Which route would you take.
It would be easier, that is require less force, to push a proton up "1",
Do you save energy by selecting one route over another.
but there is no difference in the work done or the overall change in energy.
What happens to an electron which starts out at the 0V contour?
"Up hill" to a proton is "downhill" to an electron; it will "fall" to the 8 V contour.
A very large conducting plate is charged with 1 C/m2.
What is the electric field above and below the plate?

E = /20 = 1 C/m2/2 . 8.85 x10-12m2 N-1 C-2 = 5.65 x 1010N/C (away from plate)

Draw a graph of the electric potential from below the plate to above the plate.
V = Ey

What is the force on an electron 1 m above the plate?
F = qE = 1.6 x 10-19C . 5.65 x 1010N/C = 9.0 x 10-9N
A second plate, charged with -1 C/m is placed 1cm below the positively charged plate, parallel to it.
What is the electric field below the lower plate? Between the plates? Above the upper plate.

E = 0 above upper/below lower plate

Draw a graph of the electric potential from below the lower plate to above the upper plate.
Now what is the force on the electron?
F = 0