University of California, San Diego
Center for Astrophysics & Space Sciences


Graduate Study in Astrophysics
at UCSD

UCSD offers a variety of graduate and research opportunities in astrophysics and space sciences and CASS has a number of graduate students working with faculty and research staff as thesis students. CASS is not an academic department, however; prospective graduate students apply through the departments of Physics, Chemistry, or Electrical and Computer Engineering (ECE) and follow the individual departmental curricula. Graduate students in the three departments concentrate on core courses during the first academic year, usually with financial support through Research Fellowships and/or Teaching Assistantships.
Graduate Program materials in Physics, which houses most astrophysics students and faculty.
Graduate students under CASS faculty or research staff direction have the opportunity to work on a wide range of scientific problems in experimental, observational or theoretical astrophysics and space sciences. These include theoretical studies of nucleosynthetic processes in the early universe, numerical simulations of non-linear plasma processes, analysis and interpretation of data obtained from ground and space based instruments, making observations at optical, infrared, X-ray or radio wavelengths, and participating in the development and construction of forefront astronomical instrumentation. Students in CASS have direct access to UC's ground-based optical/IR facilities at Lick Observatory and the UCSD/U. Minnesota 1.5-m telescope at Mt. Lemmon, Arizona. Through their research advisor students also have access to the 10m Keck Telescopes on Mauna Kea, Hawaii. Research areas are listed under the CASS Research Activities page.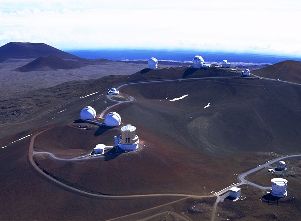 Mauna Kea Observatory from the West.
The Keck Telescopes, to the left,
have provided data for several CASS PhD theses.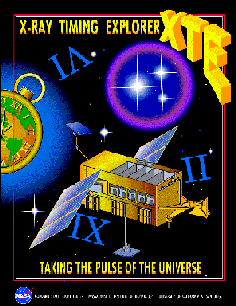 UCSD's HEXTE Experiment on XTE
is also providing graduate thesis research.
The goal of CASS is that PhD graduates have demonstrated a breadth of astrophysics and space science knowledge, a working experience with the techniques of his/her research specialty, and a deep understanding of both observational and theoretical aspects related to a thesis research topic. There are many colloquia and seminars offered through the associated departments. These include the Physics Department/CASS Astrophysics Seminar, the ECE Space Physics Seminar, and the Cosmochemistry Seminar. Various research groups also conduct informal seminars or journal clubs.
In addition to regular (core) departmental offerings (e.g. quantum mechanics, mathemetical methods) there are a number of course offerings in the three departments associated with CASS for students in astrophysics and space sciences:
Physics 223 Stellar Structure and Evolution
Energy generation, flow, hydrostatic equilibrium, equation of state. Dependence of stellar parameters (central surface temperature, radius, luminosity, etc.) on stellar mass and relation to physical constants. Relationship of these parameters to the H-R diagram and stellar evolution. Stellar interiors, opacity sources, radiative and convective energy flow. Nuclear reactions, neutrino processes. Polytropic models. White dwarfs and neutron stars.

Physics 224 Physics of the Interstellar Medium
Gaseous nebulae, molecular clouds, ionized regions, and dust. Low energy processes in neutral and ionized gases. Interaction of matter with radiation, emission and absorption processes, formation of atomic lines. Energy balance, steady state temperatures, and the physics and properties of dust. Masers and molecular line emission. Dynamics and shocks in the interstellar medium.

Physics 225A-B General Relativity
Topics covered in the first quarter include special relativity, differential geometry, the equivalence principle, the Einstein field equations, and experimental and observational tests of gravitation theories. The second quarter will focus on more advanced topics, including gravitational collapse, Schwarzschild and Kerr geometries, black holes, gravitational radiation, cosmology, and quantum gravitation.

Physics 226 Galaxies and Galactic Dynamics
The structure and dynamics of galaxies. Topics include potential theory, the theory of stellar orbits, self-consistent equilibria of stellar systems, stability and dynamics of stellar systems including relaxation and approach to equilibrium. Collisions between galaxies, galactic evolution, dark matter, and galaxy formation.

Physics 227 Cosmology
An advanced survey of topics in physical cosmology. The Friedmann models and the large-scale structure of the universe, including the observational determination of Ho (the Hubble parameter) and qo (the deceleration parameter). Galaxy number counts. A systematic exposition of the physics of the early universe, including vacuum phase transitions; inflation; the generation of net baryon number, fluctuations, topological defects and textures. Primordial nucleosynthesis, both standard and nonstandard models. Growth and decay of adiabatic and isocurvature density fluctuations. Discussion of dark matter candidates and constraints from observation and experiment. Nucleocosmo-chronology and the determination of the age of the universe.

Physics 228 High Energy Astrophysics and Compact Objects
The physics of compact objects, including the equation of state of dense matter and stellar stability theory. Maximum mass of neutron stars, white dwarfs, and super-massive objects. Black holes and accretion disks. Compact x-ray sources and transient phenomena, including x-ray and g-ray bursts. The fundamental physics of electromagnetic radiation mechanisms: synchrotron radiation, Compton scattering, thermal and nonthermal bremsstrahlung, pair production. Pulsars. Particle acceleration models. Neutrino production and energy loss mechanisms. Supernovae and neutron star production.

ECE 220 Space Plasma Physics
The nature of the solar wind interaction with different planets and comets leads to a variety of magnetospheres. This course will deal with both nature of the solar wind as well as these interactions.

ECE 281 Special Topics in Radio and Space Science
A course to be given at the discretion of the faculty at which topics of interest in radio and space science will be presented by visiting or resident faculty members. It will not be repeated so it may be taken for credit more than once.

Related UCSD Departments and Course Information:
For further information see the UCSD General Catalog or contact the graduate admissions secretary of the appropriate department:



The UCSD/La Jolla/San Diego Community
There is more to La Jolla than the beaches (although these are some of the nicest in Southern California) and more to San Diego than the zoo (probably the best in the world, especially if you include the Wild Animal Park). UCSD and La Jolla support a vibrant performing arts community, including a wide range of artists from Chamber Music to Comedy presented by the University Events Office in UCSD's Mandeville Additorium, and the highly-regarded La Jolla Playhouse whose home is the Mandell Weiss Theater on campus. San Diego supports an excellent Opera and a good Symphony, a wide range of Theater, including the famous Old Globe replica, sports teams that sometimes make the playoffs, and a revitalized downtown with its Gaslamp Quarter and nearby Old Town.
San Diego is a rapidly growing city, but still retains many community aspects of a much smaller city and is considered by most standards one of the nation's most "liveable" urban areas. Wilderness areas from desert to mountain ranges are within short driving distances.
And there is no beating San Diego's climate!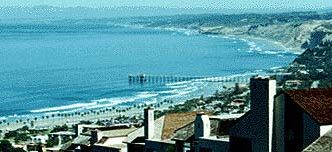 La Jolla Shores and the Scripps Pier

Here are some links to community activities:

For more information or a CASS brochure, contact Prof. Arthur Wolfe, CASS Director, by sending e-mail to Cheryl Matson, CMatson@ucsd.edu, Assistant to the Director.
---

Return to CASS Home Page